DAY 112 – CODE RED ALERT
Operations begin to rescue Loïc Lepage from his dismasted and leaking yacht 600 miles SW of Perth, Australia 
Mark Slats passes through Hobart film gate
 Loïc Lepage, now awaiting rescue some 600 miles SE of Perth WA.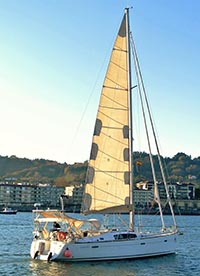 Francis Tolan and his Beneteau OCEAN 43 Alizes II is expected to be first on the scene to lend assistance.

[Below] Mark Slats arrival at the Boatshed.com Hobart film gate earlier today.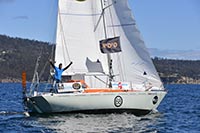 Dateline 21.10. 2018 – Hobart, Tasmania
SITUATION UPDATE At  15:00 UTC on October 21.
At 18:27 UTC on Saturday 20th Oct. the Joint Rescue Coordination Centre at Canberra (JRCC Aus.) picked up a distress beacon alert from French solo skipper Loïc Lepage.  They had already been alerted by GGR organisers that his yacht Laaland had been dismasted and was taking in water some 600 miles SW of Perth, Western Australia, and took on responsibility for coordinating a rescue mission.